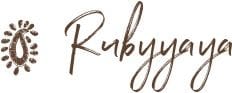 Rubyyaya fashion is a collection of vibrantly beautiful pieces that feature bright colours, stunning embroidery, beading and captivating prints.
A bohemian fashion brand that celebrates the Brisbane designer's love of travel and artisanal products.
This brand is crafted with love, attention to detail, quality natural fabrics and promotes fair labour practices in its manufacture.
RubyYaya is designed to offer countless combinations of effortless elegance.
RYY brand targets an attitude rather than age and offers a refreshing sense of escape.