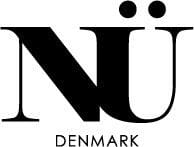 Sophisticated, raw and feminine. This was the style Jannie and Lars Schacksen dreamed of creating when they introduced the fashion brand NU on the Danish market in 1997.
NU means naked in French and woman in Chinese, and it fits perfectly into the designers' vision of fashion with a raw simplicity, pure natural materials and ethical production.
NU is fashion defined by a modern, provocative and laid-back design, expressed in a sexy and glamorous way. Luxurious fabrics such as silk, wool and leather embellished with handmade prints, embroideries and characteristic details of exquisite workmanship providing the unique DNA that characterizes NU. Feminine elements and rock 'n' roll vibes are combined beautifully in a passionate universe of raw masculinity and sensual femininity.
NU quickly became a sought after fashion brand and the company enjoyed growth year after year. The financial daily newspaper Børsen named NU a Gazelle company five times, most recently in 2010.
The NU collections are now sold in leading fashion stores throughout Denmark and in the following export markets: Norway, Sweden, the Faroe Islands, Germany, Austria, England, France, Holland, Belgium, Italy, Switzerland, Hungary, Canada, USA and Australia.
NU arose from a dream of creating stylish clothes featuring high quality and unique style a dream of running a healthy company with satisfied employees that promotes social responsibility in the world with ethical production conditions. This is the dream we now give to you with NU.